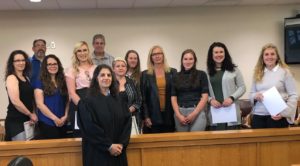 New CASA Training Sessions
CASA volunteers are compassionate, objective, self-motivated individuals from the community who are trained to speak on behalf of abused and neglected children. CASA volunteers submit an application with references, complete an interview with the program staff, and attend training. A complete criminal history and child abuse registry check are performed on each applicant. Upon completion of their training, CASA volunteers are sworn in by the juvenile court judge and adhere to strict confidentiality and professionalism throughout their appointment.
CASA of Missoula offers two types of pre-service training for new CASA volunteers: Flex Pre-Service Training and In-Person Pre-Service Training. Each training session is 30 hours total over a span of five weeks with additional hours (varies) to observe court proceedings during the 4th & 5th week of training. The Flex Pre-Service Training consists of 15 hours of in-person training and 15 hours of self-paced instruction and is offered during the winter and summer months. The In-Person Pre-Service Training consists of 30 hours of in-person instruction, two nights per week for five weeks and is offered during the spring and fall months.
To become a CASA volunteer, please fill out an application online or contact our office at (P) 406.542.1208 / (E) [email protected]
2019 TRAINING SESSIONS (30 hours total)
Spring Training
COMPLETED
(Early) Summer Training
COMPLETED
Fall Training
September 2019, Monday & Wednesday evenings from 6p-9p. First training begins 9/9/2019–accepting applications.
Winter Flex Training
November 2019, Wednesday evenings from 6p-9p with an additional 3 hours self-paced learning completed online–accepting applications