CASA of Missoula's 2022 Light of Hope Gala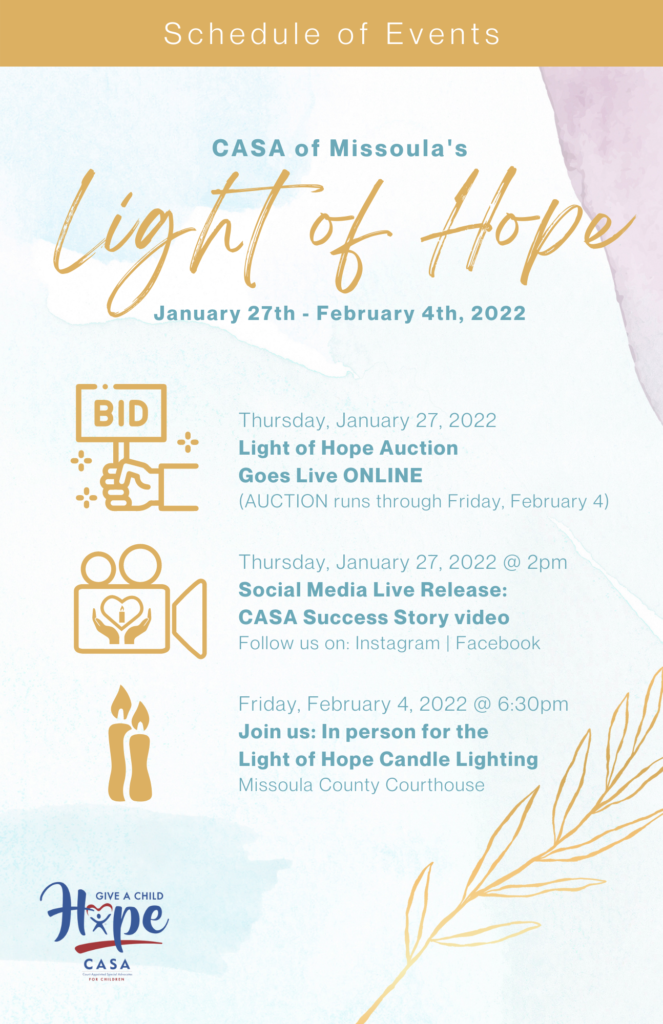 CASA of Missoula's annual Light of Hope Gala will look a little different this year:
Thursday, January 27th at 2PM: We will release a CASA Success Story video about our CASA of the Year on our Light of Hope website and social media
January 27th- February 4th: Our online auction* will be up and open for bidding on our Light of Hope website: www.LightofHope2022.Givesmart.com
Friday, February 4th at 6:30PM: We will wrap up the Light of Hope Gala week with an in-person candle lighting where we will highlight children's stories, and hear speeches from our CASA of the Year and Executive Director in front of the Missoula County Courthouse on First Friday. 
All activities are free for everyone to participate. Register to receive updates on our online auction, success story video premiere, and in-person event. It's fast and easy, and shows your support for the cause!
As CASA of Missoula's signature fundraiser, all proceeds from Light of Hope benefit abused and neglected children in Missoula and Mineral County.
*Items purchased in the auction will need to be picked up the week after the event at the CASA office (1018 Burlington Avenue, Suite 100, Missoula, MT).